Kawasaki Ninja 250 Rental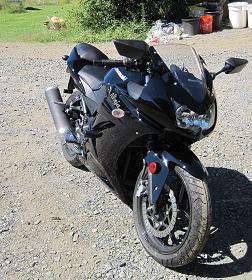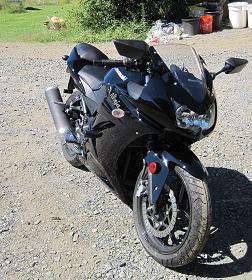 Kawasaki Ninja 250 Rental
One look at the new Ninja. 250R tells everyone that this bike is the genuine article. With a new full-fairing similar to the Ninja ZX-6R and -10R supersport bikes, a single kicked-up muffler, UNI- TRAK. rear suspension, high-performance petal disc brakes and a dual seat, this is the most stylish performer in its category. Compact size, exceptional personality and a low price tag highlight Kawasakis new Ninja 250R quarter-liter performer. Considering how much fun it is to ride and the fact that its the only 250cc sportbike sold in the U.S., its no wonder the Ninja 250R has been a strong seller for over a decade. Its successful blend of a rider-friendly engine, easy- to- operate chassis and supersport styling worthy of its Ninja moniker, this model was developed to offer real world performance to riders of all skill levels and goes to show that good things do come in small packages. At the core of the lightweight Ninja 250R is an engine that thrives on high-rpm excitement. The gutsy 249cc parallel twin has been retuned to spice up its smooth and predictable power delivery. It now offers more low- and mid-range torque thanks to revisions to its dual overhead camshafts and a new 2- into-1 exhaust system. A silky smooth six-speed transmission tops off the sportbike equipment list, enabling the 250R to exploit a powerband thats sure to please riders with its beginner friendly low-end grunt and a lively top-end rush thatll keep seasoned veterans satisfied. The coup de grace, is its ability to deliver excellent fuel economy. The 250Rs new fairing and windscreen not only look great, they deliver improved wind protection for a wide range of riding situations. This lightweight sportbike is loaded with even more rider- friendly features such as an easy-to-read instrument panel and positive neutral finder. Please call or text 732-284- 8075
Reservations cancellation charges, we take reservations seriously, when you make a reservation we are telling other customers that that vehicle is no longer available for that day.: Your choice: either a 20% fee (we will refund you 80% of your payment) or a rain check. Rain checks must be used within 6 months of the initial reservation. We take reservations seriously we hope you do as well. If you return early due to bad weather, we will issue you a partial rain check.
Note: You must be 21 years old or older, must have a valid motorcycle license or endorsement, you must buy per day insurance from MBA and all of our rentals require a $1500 refundable security/damage deposit. We cannot rent to anyone with just a motorcycle permit. If you are renting one of our Trikes, you can have just a Trike endorsement. If you have more questions about this, you can email us at redline.rentals.llc@gmail.com
You have not made reservations till you have made payment.
Please email us at info@redline-rentals.com or text us at 732-284-8074
Motorcycle license required, a permit is not a license.
$1500 INSURANCE DEDUCTIBLE WILL BE PUT ON CARD