Kawasaki Concours 14 ZG 1400 Rental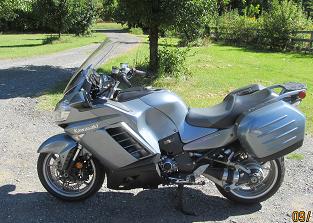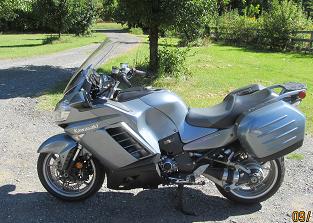 Kawasaki Concours 14 ZG 1400 Rental
If the ridiculously fast ZX-14 sport bike is the thrill-seeking teenager of Kawasaki's lineup, the new Concours 14 tourer is its older, wiser sibling who still knows how to have fun. Both bikes share the same potent powertrain, but the Concours 14 isn't simply a ZX-14 slapped with saddlebags. Underneath its faceted body panels are high-tech mods that smooth out the ZX's barnstorming personality for long hauls.
By reinforcing the aluminum monocoque chassis for the rigors of two-up touring, the Concours bulks up a bit while also boasting increased torsional rigidity. Upright ergonomics, a slightly longer wheelbase and a taller, more supportive seat enhance ride quality, too. But as evidenced by the two days we spent flogging the Concours along central California's serpentine coastal roads, the sharp reflexes veer satisfyingly towards the "sport" side of sport touring.
Approach the Concours wearing the KI-PASS wireless transponder, and the bike will start up without you having to fumble for the key. A standard electronic windshield enables riders to choose their desired wind flow path. But serious long haulers will prefer the optional tall windscreen. A larger rear disc enhances the already stellar brakes, while an optional non-linked ABS system provides stress-free stops on slippery surfaces. A virtually maintenance-free Tetra-Lever Shaft Drive ditches a traditional chain in favor of a driveline lash-reducing solution. And like most cars today, the Concours has tire pressure sensors, which lend peace of mind to long rides.
Dyno-savvy performance fanatics might pooh-pooh over the reduction of the 1,352-cc inline 4's power output over the ZX-14 and the Concour's higher weight. too. However, the revised fuel injection, a new variable valve timing system and a slipper clutch certainly add linearity and smoothness to the powertrain. Revised gear ratios with overdrive maximize the engine's flexibility, and with 156 hp on tap, power pours on strong—all the way to the 10,500-rpm redline.
Note: You must be 21 years old or older, must have a valid motorcycle license or endorsement, you must buy per day insurance from MBA and all of our rentals require a $1500 refundable security/damage deposit. We cannot rent to anyone with just a motorcycle permit. If you are renting one of our Trikes, you can have just a Trike endorsement. If you have more questions about this, you can email us at redline.rentals.llc@gmail.com
You have not made reservations till you have made payment.
Please email us at info@redline-rentals.com or text us at 732-284-8074
Motorcycle license required, a permit is not a license.
$1500 INSURANCE DEDUCTIBLE WILL BE PUT ON CARD